Bus Accident Attorneys Serving Texas & Nationwide
Buses play a key role in local, regional, and interstate transportation. Usually, buses are a reliable way to get to and from work and school, as well as travel around the city and beyond.
However, when buses crash, the aftermath is often catastrophic. In addition to the high number of serious injuries that are often involved, bus accident litigation is often complicated due to the number of powerful parties that may be involved.
Patrick Daniel Law has extensive experience with bus accidents and other complex commercial vehicle claims. Please call (713) 999-6666 today for a FREE consultation. Our lawyers serve clients in the greater Houston area, all of Texas, and nationwide.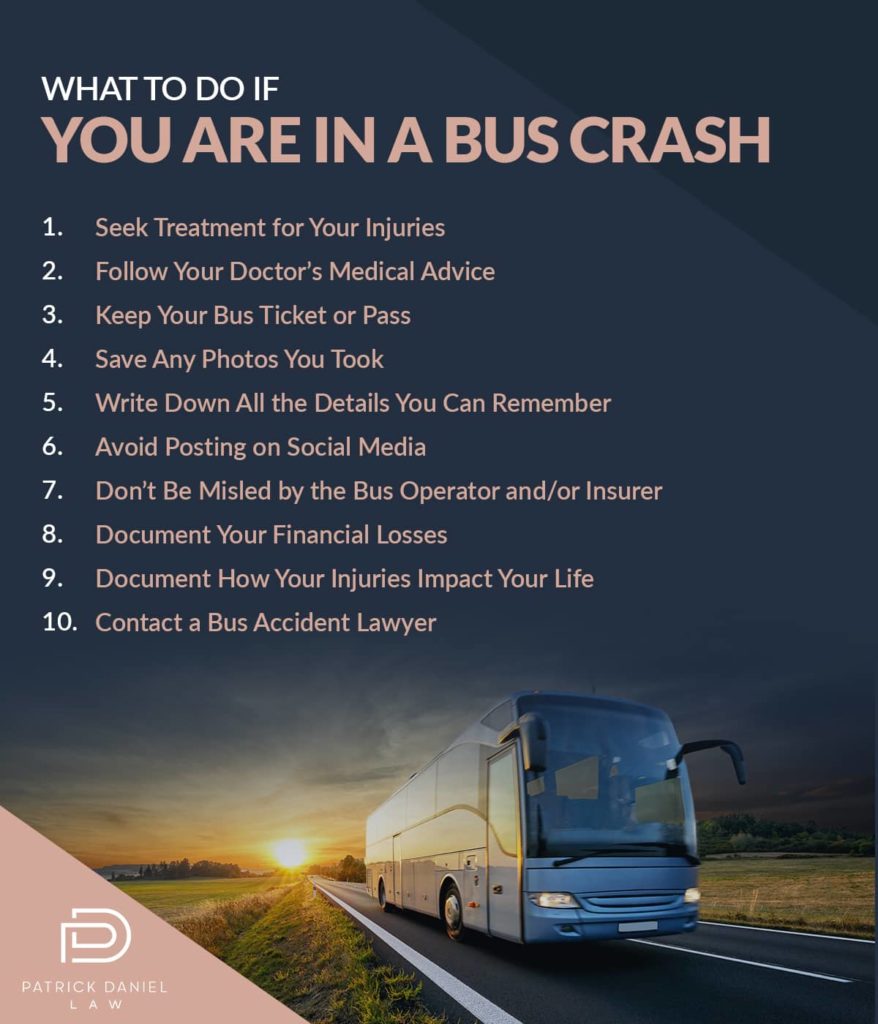 Types of Bus Accident Claims
At Patrick Daniel Law, we serve drivers and their passengers who have been injured in collisions with buses, as well as passengers on the bus who suffer serious accident injuries. Our team handles claims involving all kinds of buses and motor coaches, including:
School buses
City/public buses
Regional carriers
Private and charter buses
Passenger vans
Shuttles
Due to the size and weight of buses, catastrophic injury is common in bus accidents. This is true for both passengers of the bus, who are generally not restrained while riding, as well as other motorists.
Our lawyers will mercilessly pursue compensation for the serious injuries you or your loved one sustained in the bus accident. If a member of your family was tragically killed, we can also build a wrongful death claim on your behalf.
What to Do If You Are in a Bus Crash
If you have been seriously injured in a bus crash, the steps you take now could have a significant impact on the rest of your life. You need to prioritize your health, and you need to be careful to protect your legal rights. With this in mind, you should:
1. Seek Treatment for Your Bus Accident Injuries
After being injured in a bus accident, you should seek medical treatment promptly. Even if you don't need to be transported to the emergency room, you should still get yourself examined by a doctor as soon as possible.
The trauma of a bus accident can cause various types of injuries. Seeking treatment promptly can help mitigate your risk of long-term complications.
Getting medical attention can also help you protect your legal rights. The longer you wait, the more difficult it will become to prove you sustained your injuries in the crash. Insurance companies will fight to avoid liability by all means available. This includes disputing that you sustained your injuries in the accident.
2. Follow Your Doctor's Medical Advice
Once you receive a treatment plan, you should follow your doctor's orders closely. The only exception is if you have questions about your doctor's diagnosis or treatment recommendations, in which case you should seek a second opinion.
If you ignore your doctor's advice and delay or jeopardize your recovery, the bus operator and/or the insurance company will not hesitate to use this against you. Make sure you keep all appointments with doctors, specialists, physical therapists, etc.
3. Keep Your Bus Ticket or Pass
If you have a bus ticket or pass that you used on the day of the accident, be sure to keep this in a safe place. This will help prove that you were on the bus at the time of the accident.
4. Keep Any Photos You Took with Your Phone
If you were able to take pictures immediately following the accident, you should share these with an attorney as soon as possible. Photographs may hold key information about what happened and who was at fault.
Even if you happened to take photos on the bus before the crash (e.g., you took a selfie with a friend), you should save these pictures on your phone as well. These photos could also hold important information, such as showing where on the bus you were seated and the interior condition of the bus at the time of the accident.
5. Write Down as Many Details as You Can Remember
Along with keeping your bus ticket or pass and any photos you took with your phone, you should also write down as many details as you can remember. For example, you should try to write down the answers to key questions such as:
What type of bus were you riding (e.g., a Houston METRO bus, Greyhound, etc.)?
What route were you riding?
Where on the route did the accident happen?
Did the bus driver say anything immediately before or after the crash?
What is your impression of how the accident happened?
These are just some examples of details that could be helpful for establishing your legal rights. If you can remember anything that you think might be important for your claim, you should write it down to discuss with your lawyer.
6. Avoid Posting on Social Media
Any time you are involved in an accident, it is generally a good idea to avoid posting on social media and other websites. Insurance companies will monitor your online activity for posts and photos they can use to contest your claim.
7. Don't Be Misled
In the days or weeks after the bus crash, the bus operator and/or its insurance company may try to contact you. Don't be fooled: These parties do not have your best interest in mind.
Do not sign anything or accept a settlement until you have a chance to talk to a bus accident lawyer. In fact, you should let an attorney handle all of the talking so you don't have to worry about making a mistake.
8. Document Your Financial Losses
When you get injured in a bus accident, the costs will add up quickly. You will want to document these expenses to the best of your ability, as this will help your lawyer calculate the value of the damages in your claim.
Be sure to keep organized any bills, receipts, account statements, and employment records to document your:
Medical expenses
Prescription costs
Medical supply costs
Transportation costs
Loss of income and benefits
And more
9. Document Your Non-Economic Damages
The items above are considered economic damages. You may also be entitled to compensation for the non-financial impact of your injuries (known as non-economic damages).
Non-economic damages are more difficult to quantify. However, written notes, photos, and videos can help document your pain and suffering, loss of enjoyment of life, and more.
10. Contact a Houston Bus Accident Lawyer
The best way to protect your legal rights after a bus crash is to hire an experienced lawyer as soon as possible. At Patrick Daniel Law, we provide FREE case evaluations, and we do not charge any fees or costs unless we win.
Causes of Bus Accidents
Most bus accidents are the result of driver error. However, the error may rest with the bus driver, the driver of another vehicle, or a combination of the two.
The following forms of carelessness on the bus driver's part may result in an accident:
Driving while fatigued
Driving under the influence of drugs or alcohol
Speeding
Making wide turns
Changing lanes without checking blindspots
Following other vehicles too closely
Distracted driving
The driver of another vehicle may also be partially or completely at fault for the bus accident due to behaviors such as:
Excess speed
Tailgating the bus
Aggressively trying to pass the bus
Failing to notice brake or warning lights
Impaired or distracted driving
As in many claims involving commercial vehicle accidents, liability in bus accident cases is often complex. Multiple parties may be at fault beyond just the drivers.
Bus Company Liability in Accident Claims
Companies that own and operate buses may be liable for accidents if their negligence was a factor in the crash. This may include:
Negligent hiring practices, such as hiring unqualified drivers or failing to check for previous violations
Inadequate driver training
Failure to implement and enforce policies to combat substance abuse, distracted driving, etc.
Hours of service violations (federal regulations limit the number of hours bus drivers can drive, but employers may coerce their drivers into breaking the law)
Failure to maintain the bus and make repairs
The owner and operator of the bus may be a private company, a school, or a government entity. The entity involved and where the accident occurred may affect your claim, so it is important to contact an experienced attorney as soon as possible to discuss your legal options.
Vehicle Defects in Bus Accident Claims
Buses are large, heavy vehicles. Their safe operation is dependent on a number of parts working in harmony. When part of the vehicle fails, a bus accident may result.
A part or component on the bus may fail due to negligent or improper maintenance, or it could be the result of a defect. Defective parts that may cause a bus accident include:
Defects in the frame of the bus
Defective brake systems
Defective fuel tanks and fuel systems
Defective tires
Electrical system defects
Unstable or broken seats
Defective lights and stop arms (on school buses)
Defective pivoting and articulating joints
If the bus accident was caused by a defective part or component, our lawyers will pursue compensation on your behalf from the company that designed or manufactured the faulty part.
Injuries in Bus Accidents
Whether you are a passenger on the bus or a driver or passenger in another car, anyone involved in a bus accident is at a high risk of suffering serious injuries. Those in other vehicles that are hit by the bus may sustain:
Spinal cord injury
Loss of limbs
Broken bones
Burns
The impact of an accident may throw passengers out of their seats, potentially resulting in head and facial injuries as well as broken bones in the arms, legs, and chest. If the accident causes the bus to tip or roll over, passengers may be flung from one side of the vehicle's interior to the other, potentially resulting in crush injuries and even impalement. Horrifically, if the bus catches fire as a result of the accident, passengers may be trapped inside, potentially suffering severe burn injuries or worse.
Compensation in a Bus Accident Claim
Because multiple passengers may suffer serious injuries in a bus accident (not to mention the harm to people in other vehicles), multiple claims may proceed from a single crash. These claims often involve millions of dollars in damages.
If you or a loved one has suffered serious injury in a bus accident, the attorneys at Patrick Daniel Law will meticulously investigate the damages you have suffered and mercilessly pursue every dollar you are owed for your injuries.
Damages we may be able to recover for your injuries in a bus accident claim include:
Medical expenses
Lost wages
Loss of future earning potential, if the accident renders you unable to work
Pain and suffering
Permanent disability
Scarring and disfigurement
Emotional anguish
Loss of consortium
If your loved one is killed in a bus accident, our lawyers will pursue compensation on your behalf through a wrongful death claim for damages such as:
Funeral and burial or cremation costs
Loss of income
Medical expenses prior to your relative's death
Loss of care, maintenance, support, and services
Loss of consortium
Depending on the circumstances of the bus accident, punitive damages may also be available in your personal injury or wrongful death claim. This compensation is awarded at the discretion of the judge or jury as a means of penalizing a defendant who engages in extreme negligence or misconduct.
How Patrick Daniel Law Can Help with Your Bus Accident Claim
Legally, buses are considered "common carriers." Like with truck accidents and other claims involving vehicles that are used for commercial purposes, this means that buses are subject to federal regulations. Therefore, federal agencies such as the National Transportation Safety Board and the National Highway Traffic Safety Administration will likely be involved in the investigation of any crashes.
In claims where complex regulations, investigations, and liability are involved, it is crucial to have knowledgeable, experienced legal counsel on your side. Patrick Daniel Law has extensive experience in complex vehicle accident cases. Our attorneys are strategic, meticulous, and merciless in holding large companies and other institutions accountable when their negligence harms innocent people.
In building your claim, our team will collaborate with leading experts in accident reconstruction, engineering, transportation, and other disciplines to understand how the accident occurred. From this meticulous investigation, we will develop an effective legal strategy that takes into account all of the damages you and your family have suffered.
Through settlement negotiations and, if necessary, trial, we will mercilessly pursue just compensation for your losses. Our proven results demonstrate our commitment to fighting to get our clients the most when they need it the most.
We recognize the importance of compassion in serving our clients. As part of our commitment to child safety, we are proud to provide high-quality legal representation for families whose lives are turned upside down by the serious injury or death of a child in school bus accidents.
Contact Our Bus Accident Lawyers Today
If you or a family member has been seriously injured in a bus accident, or you lost a loved one in a bus crash, Patrick Daniel Law is here to support you. We make it our priority to pursue the compensation you deserve at the time you need it the most.
Please call (713) 999-6666 or contact us online today for a FREE case evaluation. Our bus accident attorneys serve clients throughout the greater Houston area, as well as all of Texas and nationwide.