Being seriously injured at work can affect multiple aspects of your life. In addition to the physical pain and limitations presented by a work injury, getting hurt on the job can impact the ability to pay your bills, your family's financial resources, and even your ability to earn a living.
Workers in most states have the option to file a workers' compensation claim for benefits to cover losses related to a workplace injury. However, Texas is unique in that the law does not require employers to carry workers' compensation.
If your employer doesn't have workers' comp insurance, your only option may be to sue. A Houston work injury lawyer can help. Please call Patrick Daniel Law at (713) 999-6666 today for a free evaluation of your rights and legal options.
Do I Need a Lawyer for Workers' Comp in Texas?
Although workers' compensation is a no-fault system (i.e., you don't have to sue to recover damages), many workers are often unaware of the difficulties they might face in getting the benefits they deserve. So, hiring a lawyer is generally beneficial if you suffer an injury on the job, but it is especially important in Texas.
Given the possibility that your employer is uninsured (known as a "non-subscriber"), you need an attorney who can help you explore all of your options for recovering compensation. This may include filing a lawsuit against your employer and/or other negligent parties that may be responsible for your injury.
Can You Sue Your Employer If You Are Injured at Work?
Your ability to sue for a work injury is contingent on two basic factors.
First, if your employer has workers' compensation insurance, you are generally limited to filing a workers' comp claim. If there is no insurance program in place, you may be able to sue.
Second, to recover compensation in a work injury lawsuit, you must prove that your employer's negligence caused your injuries and subsequent damages. Employers have a number of legal responsibilities, such as providing a safe work environment, hiring competent employees, and providing training to help workers do their jobs safely. Breaching these duties – whether directly or through the negligence of one of your coworkers – exposes a non-subscriber employer to liability.
How Do I Sue My Employer for Injury?
Provided your employer is a non-subscriber, filing suit for a work injury is the same as filing a claim for any type of personal injury. As with all legal claims, the first step you should take is to hire an attorney to help with your case.
Houston work injury lawyer Patrick Daniel will fully investigate the circumstances of the on-the-job accident to determine how it occurred and who is responsible. Our team will gather evidence on your behalf, including photos of dangerous conditions in your workplace, eyewitness testimony, and more. We will also fully assess the damages you have sustained as a result of your injuries, as well as identify your options for filing a claim.
If we determine that your employer does not have workers' compensation insurance, the next step is assessing your right to sue.
Before filing suit, Patrick Daniel Law will draft and issue a demand letter that outlines the circumstances of the accident, the nature of your injuries, your employer's liability, and the damages you are seeking. This may initiate negotiations between our team and your employer and/or the employer's insurance company. Alternatively, if the opposing parties deny your claim or refuse to negotiate, we may need to file a lawsuit in the court that has jurisdiction over your case.
Work Injury Claims We Handle
Although we are proud to assist employees who file for workers' compensation, the primary focus of our practice is helping injured people pursue recovery of their damages from the parties that have wronged them. With Texas law providing no guarantee of workers' comp benefits, this often means filing claims against negligent employers.
Serious injuries can occur in any workplace. However, some industries are inherently more dangerous, and these dangers are often exacerbated by the carelessness or wrongdoing of employers.
Patrick Daniel Law has extensive experience with the following work injury claims:
If you were injured at work in the course of your job, you have rights. Regardless of the circumstances, Patrick Daniel Law can investigate the accident and pursue the full compensation and benefits you deserve.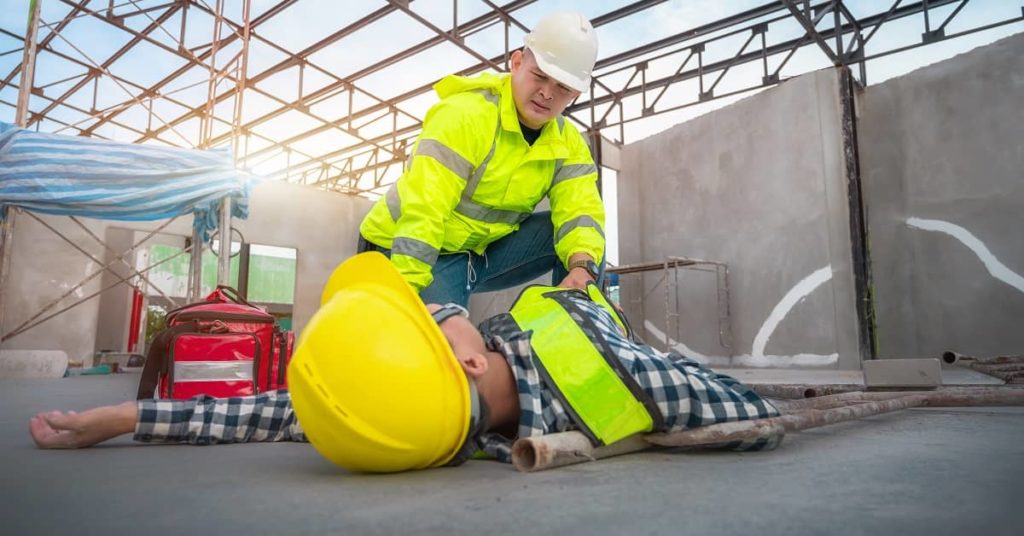 Common Types of Work Injuries in Texas
Patrick Daniel Law has experience handling a wide variety of work injury claims. These include:
Loss of Limbs
Cuts and Lacerations
Bone Fractures
Damage to Soft Tissue
Injury to Internal Organs
Nerve Damage
Eye Injuries and Vision Loss
Hearing Damage and Deafness
Occupational Illnesses
These and other injuries may arise from a multitude of different incidents and safety hazards. Some injuries occur suddenly as a result of a fall or other accident. In other cases, however, occupational injuries and illnesses may develop slowly through repetitive actions (e.g., operating a tool or machine) or exposure to dangerous materials (e.g., asbestos, chemicals, toxic fumes, etc.).
Whether the injury or illness occurs in an instant or over time, it is important to seek medical attention as soon as possible for any work-related complaint. In addition to getting an accurate diagnosis and starting necessary treatment, seeing a doctor promptly creates a record of your injury, the symptoms you have, the prognosis, and the likely cause.
All of these details are essential whether you are filing for workers' compensation and/or bringing a claim against your employer.
Who Is Liable for a Work Injury?
For workers in most states, the question of liability does not apply to the vast majority of workplace injuries. When workers get hurt on the job, filing for workers' comp is usually the one and only option.
Because Texas has such lax rules on workers' compensation, employer liability is a much more common concern in Houston and other areas of the state. However, just because an employer can be sued does not mean that every case is guaranteed to succeed.
The unfortunate reality for many workers is that accidents and injuries are not always someone's fault. Some work injuries occur despite the best efforts of workers and employers to prevent accidents. If this is the case, the injured worker will likely not be able to sue.
Without recourse to workers' compensation, the situation above would unfortunately leave the injured worker responsible for paying all expenses related to the injury. Before resigning yourself to this situation, however, it is crucial to consider all of the factors that led to the workplace accident.
Careful investigation may reveal that the negligence of one or more third parties caused your injuries. Potential examples include:
Third-party liability claims are no less challenging than filing suit against an employer. Patrick Daniel Law is Strategic, Meticulous, and Merciless. We identify all of the parties whose negligence caused your work injuries, and we aggressively pursue the full compensation you and your loved ones deserve.
If your employer has workers' compensation insurance, this does not prevent you from filing suit against one or more negligent third parties. Considering the limitations of workers' comp benefits, exploring this option is essential in some situations for maximizing your recovery.
What Damages Can I Recover for a Work Injury?
One of the biggest differences between workers' compensation and personal injury law is the types of recoverable damages. Workers' compensation benefits are limited to the following:
Medical benefits: Workers' compensation covers medical expenses related to a workplace injury.
Income benefits: If a worker becomes disabled as a result of an accident on the job, workers' comp benefits will cover a percentage of the worker's lost wages.
Death benefits: In the event that a worker is killed on the job, workers' compensation will pay for a portion of burial expenses as well as death benefits (partial replacement of lost income) for eligible family members.
Most workers' comp benefits are subject to limitations. The emphasis of the program is to get workers back to work, not to make up for the totality of losses associated with a work injury.
When you file a lawsuit against your employer for a work injury, on the other hand, you can pursue compensation for all of the damages you have sustained. You may be entitled to compensation for the following:
All medical expenses, including your current bills and the costs you will incur in the future
All lost wages to date
Loss of earning capacity (i.e., the wages you will lose as a result of impairment from a work injury)
The cost of travel to and from doctor's appointments, physical therapy, etc.
Modifications to your home and vehicle
Professional services to assist with household activities, such as home repair, lawn care and maintenance, childcare, etc.
In addition to these economic losses, you may be entitled to recovery of non-economic damages. Work injuries often result in chronic pain, disability, scarring and disfigurement, and other adverse impacts on your quality of life. At Patrick Daniel Law, we assess the evidence and consult experts to add up all of these damages on your behalf.
Can I Sue My Employer for Pain and Suffering?
Pain and suffering is one of the most notable types of damages in any personal claim. These damages compensate injury victims for the emotional and psychological trauma stemming from an accident.
Workers' compensation makes no provision for pain and suffering. However, in cases where a negligent employer causes an accident and the worker is able to file suit, pain and suffering damages can and absolutely should be accounted for as part of the claim.
Damages for pain and suffering do not have a precise monetary value. As a result, insurers will typically not offer fair compensation for these losses. Patrick Daniel Law meticulously examines all of the ways that a work injury affects your life – physically, mentally emotionally, and financially. Our rigorous investigation enables us to present compelling evidence of pain and suffering and other damages.
How Long Do I Have to Sue for Work-Related Injuries in Texas?
Another major difference between workers' compensation claims and lawsuits for work injury is the length of time workers and their families have to take action. In Texas, the statute of limitations for any personal injury claim (including those involving workplace accidents) is 2 years from the date of the injury.
Injured workers have even less time to file for workers' comp benefits. Not only are claims subject to a 1-year time limit, but workers must report the injury to their employer no later than 30 days after an on-the-job accident.
Prompt legal action is crucial whether your employer has workers' compensation insurance or not. Houston work injury lawyer Patrick Daniel and the entire team at Patrick Daniel Law are committed to taking swift action on your behalf to preserve all of your options for filing a claim.
Work injury claims in Texas are complicated matters. The lack of mandatory workers' compensation requirements leaves many workers with limited options if they are hurt on the job. Although you may be able to file a lawsuit against an employer and/or other third parties, proving negligence can be challenging without qualified legal support.
The team at Patrick Daniel Law is Strategic, Meticulous, and Merciless when it comes to protecting the rights of workers and pursuing maximum compensation on their behalf. Attorney Patrick Daniel is recognized as one of America's Top 100 High Stakes Litigators in a number of practice areas related to workplace injury litigation, including construction accidents, maritime law, and railroad worker/FELA claims.
For a free case evaluation, please call Patrick Daniel Law at (713) 999-6666 today. Our work injury lawyer serves clients throughout the Houston area, all of Texas, and nationwide.