Experienced Semi Truck Accident Attorneys Serving Clients in Houston, Texas, and Nationwide
As one of the country's commercial trucking hubs, semi trucks are a common sight throughout the Houston area. Although extensive regulations govern the trucking industry, the companies responsible for moving cargo have one major concern: the bottom line.
To protect their bottom line, it is all too easy for trucking companies and the people who work for them to cut corners. When this happens, innocent people get injured or killed.
At Patrick Daniel Law, our attorneys have extensive experience in the complex realm of commercial truck accidents. If you were seriously injured or lost a loved one in a collision with an 18-wheeler, our law firm can help you pursue the compensation you deserve.
Please contact Patrick Daniel Law at (713) 999-6666 today for a free consultation. Our truck accident lawyers serve clients in Houston, all of Texas, and throughout the United States.
Do I Need a Lawyer in a Truck Accident Case?
Yes. Although it is not required that you hire a lawyer before taking legal action against a trucking company, the odds are stacked against you if you don't have qualified representation.
Truck accident claims aren't like car accident cases. Although both types of claims center on collisions involving one or more vehicles, truck accident litigation is much more complicated.
There are a few reasons trucking crashes are complex, and why hiring an experienced lawyer is crucial to a successful outcome in your case:
Your case may involve more than one defendant, including the trucker, his/her employer, the maker of a part on the rig, and possibly others
Multiple defendants means multiple insurance companies will be involved, all of them trying to pass the buck and pay you as little as possible
Truck drivers are subject to federal regulations as well as state and local laws; multiple agencies are likely to be involved in the accident investigation, each of them governed by their own rules, legislation, and procedures
Injuries in truck accidents tend to be much more extensive than they are in "average" car crashes
Accordingly, the damages sought in truck accident lawsuits tend to be much higher
All of these factors combine to make trucking accident claims complicated and often hotly contested. To get the compensation you need and deserve after being hurt in a crash with a semi truck, it is certainly in your best interest to hire a lawyer who understands both the complexities of the litigation and the stakes to you personally.
Causes of Trucking Accidents
Like any vehicle accident, a variety of factors can cause a semi truck collision. Negligence on the part of the trucker can take different forms, although the outcome is often catastrophic regardless of the cause:
Drowsy driving
Driving while under the influence of drugs or alcohol
Distracted driving, including texting, eating, using the radio, and other activities behind the wheel
Excess speed
Failure to obey traffic signs and signals
Tailgating
Failure to execute turns and lane changes properly
In many cases, a combination of bad decisions and unsafe behaviors lead to truck accidents. If the driver is fatigued or under the influence, it is more likely that he or she will drive too fast or make reckless decisions that cause an accident.
These decisions, however, don't happen in a vacuum. The truck driver may be following the instructions of his or her employer, which in turn widens your case to include additional defendants.
Liable Parties in a Truck Accident Case
A key part of investigating any semi truck accident is identifying the parties responsible. Typically, this goes well beyond the driver at the scene and encompasses the company that hired the driver, as well as other companies involved in the operations of the rig.
At Patrick Daniel Law, we investigate and take action against all parties whose negligence contributed to your injuries in a truck accident, including:
The Trucking Company
Delivering cargo is a business of tight deadlines. Everyone in the organization, from supervisors to executives, may prioritize the bottom line at the expense of their drivers' – and the public's – safety.
Negligence on the part of the trucking company may involve:
Requiring drivers to work beyond the mandated hours of service limits
Coercing drivers to keep inaccurate service and maintenance logs
Hiring unqualified or inexperienced drivers who don't have proper licensure
Failing to screen drivers for alcohol and drug use or medical conditions that may compromise their ability to operate rigs safely
Not providing drivers with proper training
Failing to hold the proper type and amounts of insurance coverage
These actions may not be obvious at the scene of the crash, and the trucking companies will make every effort to cover their tracks. Patrick Daniel Law will perform a comprehensive investigation to unravel the role corporate negligence may have played in the truck accident.
Trucking Maintenance Crews
The question of who services the semi may play a role in your truck accident claim as well. If the tractor and/or trailer is the property of the trucking company, in-house maintenance workers or a contracted third party may be responsible for the upkeep. If the trucker is an independent contractor who owns the rig, however, he or she is required to keep the truck in safe working order by taking it in for tuneups and repairs.
With 18-wheelers traveling thousands of miles each year, routine maintenance and replacement of worn out parts is crucial to the safe operation of any truck. If the truck accident was the result of a tire blowout or other failure related to negligence in maintenance and repairs, you may be entitled to damages from the individual or company that services the rig.
Shipping Companies
Trucks may visit multiple businesses and distribution centers in the course of a haul. As the crews work to load and unload cargo, it is important for them to exercise caution in distributing the weight and securing items so they don't shift in transit.
Trailers with uneven distribution of weight are at risk of tipping over, potentially onto a vehicle on either side of the rig. Shifting loads may cause the truck to jackknife or cause cargo to fall out into the road.
One of the major factors investigators will assess is the role of unsecured or poorly balanced loads in the truck accident. Our lawyers will review these reports and gather additional evidence to ensure that the party who loaded the truck is held accountable.
Parts Manufacturers
Defective vehicle components can play a major role in truck accidents. The failure of a part on the tractor or trailer (or both) can cause the driver to lose control of the vehicle, resulting in a wreck.
Product liability lawsuits in general require extensive investigation of the design and manufacturing of the failed part, as well as the actions the company that makes the part takes to warn the public. Sadly, in many cases corporations make every effort to protect their revenues at the expense of public safety.
Like with trucking companies and other parties, many of whom have billions of dollars and teams of lawyers on their side, Patrick Daniel Law aggressively litigates against negligent companies that manufacture and sell defective trucking parts. We partner with teams of experts to analyze what happened, then take action on your behalf.
Common Injuries in Truck Accident Cases
The potential for catastrophic injuries in a truck accident is very high. After all, commercial trucks can weigh up to 80,000 pounds, creating force in an accident that even a heavy-duty pickup or SUV has no hope of withstanding.
As a result, serious injuries are the rule rather than the exception. Some of the severe injuries we see at Patrick Daniel Law in truck accident cases include:
Spinal cord injury
Ruptured discs and other neck and back injuries
Loss of a limb
Disfigurement and scarring
Internal injuries, including damage to organs and internal bleeding
Multiple bone fractures
Damage to muscles, ligaments, tendons, and other soft tissue
The most tragic outcome in a trucking accident is the death of one or more people. Unfortunately, fatalities happen all too often in collisions with big rigs, with the driver and occupants of passenger vehicles the most likely to be killed.
Compensation in Your Truck Accident Claim
Serious injuries require extensive treatment. After a truck accident, you may require hospitalization, multiple surgeries, and months of physical therapy. Even with timely intervention and the best medical care, you might experience lifelong physical and cognitive deficits, not to mention the emotional burden of adjusting to your new circumstances. Meanwhile, as the medical bills after a truck accident pile up, many victims are unable to pay because their injuries make it impossible for them to return to work.
If this is the situation you are facing in the wake of a truck accident that wasn't your fault, Patrick Daniel Law can pursue full compensation on your behalf. You may be eligible for damages such as:
Medical expenses
Lost wages
Diminished future income, if the injuries compromise your ability to make a living
Pain and suffering
Special damages for home modifications, hired help, and compensation for other costs unique to your situation
Impact to relations with your family (broadly known as "loss of consortium")
Depending on the facts of the truck accident, the jury may also award you punitive damages. This form of compensation is reserved for situations of extreme recklessness, willful disregard for safety, malice, and fraud. Punitive damages are not commonly awarded, but when they are it sends a message to the defendant that their conduct is unacceptable.
If you lost a loved one in a truck accident, Patrick Daniel Law can pursue damages through a wrongful death lawsuit on your family's behalf. Spouses, children, and parents of the deceased are allowed to file a wrongful death lawsuit in Texas for compensation of economic losses, including lost wages and the expenses of burial, cremation, and funeral services, as well as non-economic damages tied to the emotional toll of the loss.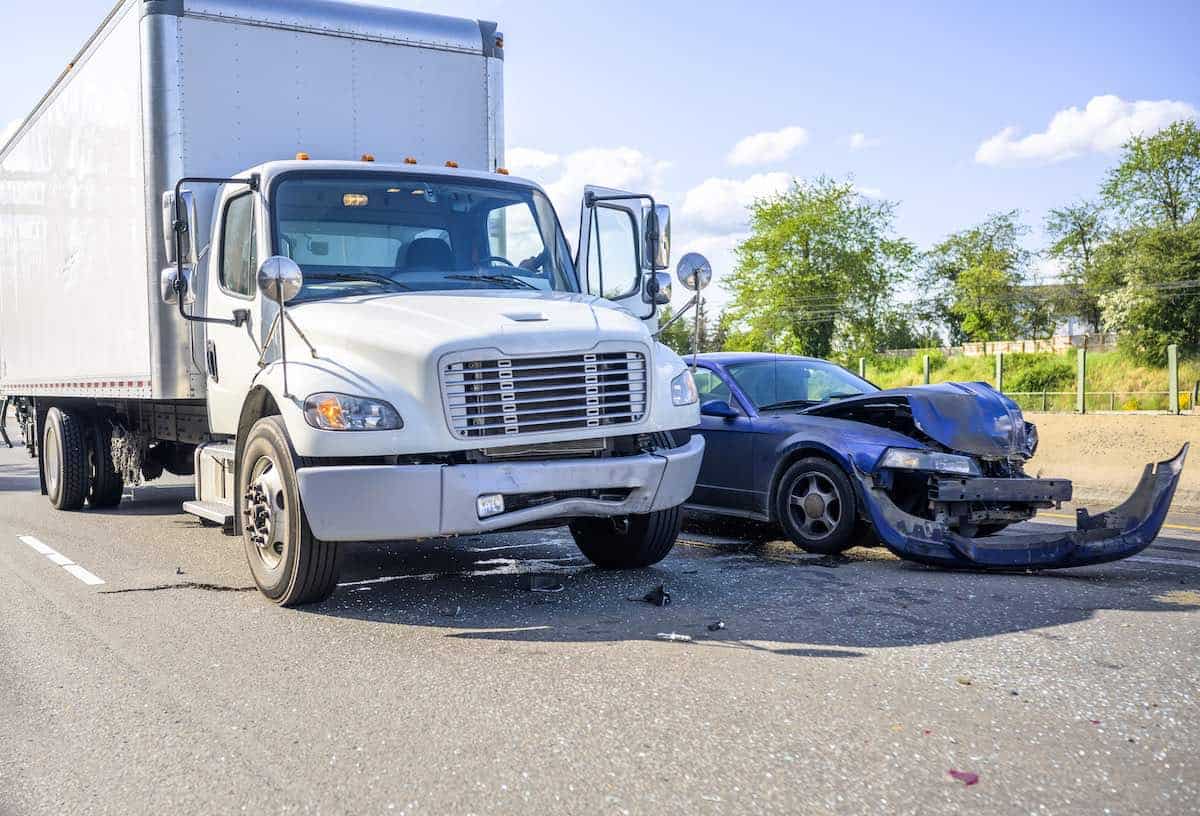 How Our Truck Accident Lawyers Can Help
At Patrick Daniel Law, our goal is to hold negligent parties accountable for the harm they cause our clients. In 18-wheeler accident cases, this often means taking on multi-billion dollar trucking companies and their insurance companies.
We know the tactics employed by these corporations to underpay and deny legitimate accident claims. When you hire Patrick Daniel Law, our lawyers will ensure that these companies know they can't take advantage of you.
Our team includes attorneys, business strategists, and other experts who take a multidisciplinary approach to building your case. We calculate every cent you are owed for the injuries you have suffered, and we aggressively pursue the just compensation you deserve.
Many firms are quick to settle when faced with the legions of lawyers and deep pockets of the companies involved in trucking accident claims. Patrick Daniel Law is not like that.
We are passionate about pursuing results that other law firms can only imagine because we take the time to get to know each of our clients personally. We feel the struggles you and your family are facing, and this motivates us to do the best job possible for you.
Contact Our Truck Accident Lawyers in Houston Today
After a commercial vehicle accident, time is of the essence. The trucking company and its insurer are already circling the wagons in anticipation of an injury claim, which is why it is so important to hire a lawyer who can mount an investigation of how you have been impacted by the truck accident.
The attorneys at Patrick Daniel Law will secure all relevant evidence and calculate the total amount of compensation to which you may be entitled. Then, our team will go on the offensive against all liable parties. Whether we are able to achieve a favorable settlement or have to go to court, we are with you every step of the way.
Get started with a free review of your truck accident case. Call Patrick Daniel Law at (713) 999-6666 or contact us online today. Our law firm serves clients in trucking accidents throughout the Greater Houston area, all of Texas, and throughout the United States.
We Produce Results That Matter
$4,800,000
Insurance bad faith claim for property asset
$1,650,000
Hospital bed failure
$2,890,000
Premises negligence case involving complex regional pain syndrome.
$100,000,000
Business dispute following wrongful shareholder termination
$25,000,000
Product defect involving burns and burn encephalopathy, top 5 largest verdicts in the country.
$2,500,000
Jury verdict in catastrophic automobile accident
$30,000
Settlement with Allstate for a car accident
$1,700,000
Product design failure
$2,900,000
General negligence during mock war games resulting in neck surgery, largest single Plaintiff verdict in parish history.
$56,000
Settlement with Allstate, Garrison Property and Casualty Insurance
$351,289
Breach of Contract Settlement
$5,450,000
Intentional attack on co-worker resulting in brain injury.
Contact Us If You Or A Loved One Has Been Involved In A Truck Accident
or CALL
(713) 999-6666